Brace yourselves for a scintillating literary journey as Sara St. Clair, the mesmerizing model, and erotic content creator, proudly unveils her debut book, Romance Costs Extra.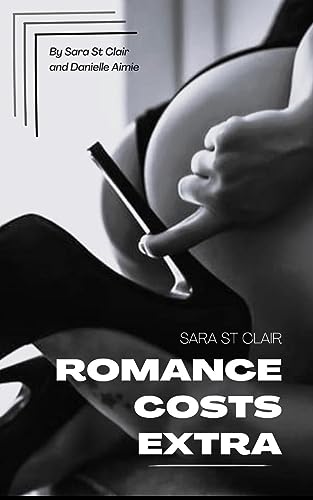 Prepare to be thrilled by a story that defies convention, explores the depths of sensuality, and ultimately empowers readers to embrace their passions. Sara St. Clair invites you into her erotic world with Romance Costs Extra.
Co-authored with Danielle Aimie, this captivating tale offers an unfiltered glimpse into Sara's early years and her remarkable rise to stardom in her alluring world of sexual adventures.
Romance Costs Extra is not just a book; it's an intimate revelation of Sara's awe-inspiring journey from an enchanting girl-next-door to a fearless entrepreneur in an industry that demands confidence, bravery, and a unique entrepreneurial spirit. Sara shares her candid and sensual encounters in vivid detail, painting a canvas of erotic and exciting experiences that have shaped her into the well-known adult superstar she is today.
With unapologetic honesty, Sara delves into the complexities of her love life, revealing how her career inescapably intertwined with her romantic relationships. The book navigates the tumultuous waters of romance, love, and loss, chronicling a life defined by passion and desire.
From her humble beginnings at Sammy's strip bar to her enthralling relationships with the super-rich, Sara invites readers into her world of opulence and allure. She takes us on a mesmerizing journey through nights spent on lavish yachts and in the embrace of Manhattan's most luxurious hotel owners. The pages come alive with tales of intriguing clients, renowned surgeons, corporate magnates, and decadent parties brimming with luxury and excess.
Sara expresses her delight about the release: "I am overjoyed to share my sexy story with my fans. This book is a celebration of empowerment, self-discovery, and embracing one's desires. I encourage all my followers to dive into the pages of 'Romance Costs Extra' and experience the naughty fun with me."
Romance Costs Extra is available on Amazon
For more about Sara St. Clair:
https://ikissedsara.com/
https://onlyfans.com/sarastclairxxx
https://sarastclair.manyvids.com
https://www.instagram.com/Sillysara91
https://twitter.com/sarastclairxxx
About Sara St. Clair:
Sara St. Clair is a stunning model and sexy content creator who has made a significant impact in the world of adult entertainment. With her bubbly personality and hardcore approach to erotic content creation, Sara has garnered a devoted global fanbase. Her portfolio encompasses a range of sizzling sex clips on premium social media platforms, showcasing her creativity and boldness.
Collaborating with industry leaders like Fangear.VIP further demonstrates Sara's innovative mindset and her ability to continually captivate audiences. As an influencer who transcends boundaries, Sara St. Clair is rewriting the rules of the content creation landscape.

Indie Adult Cinema by Porn Filmmakers with Feminist, Queer, and Ethical Perspectives