Penthouse turns up the heat for the height of summer revealing 'cool' content creator and model, Nicolle Snow as August Pet of the Month.
Penthouse Magazine has announced their August 2023 Pet of the Month is model and content creator Nicolle Snow. The Southwestern beauty of European descent appears on the cover of the July/August 2023 "Movers and Shakers Issue" garbed in bright turquoise lingerie and adorned by her signature Penthouse key necklace.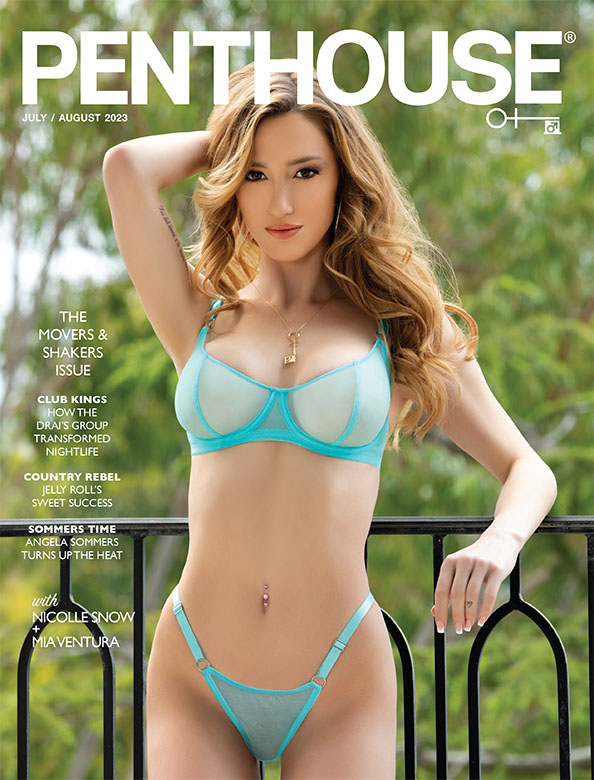 "I really loved the whole process of selecting Nicolle's photos for her August Pet of the Month cover and layout," commented Penthouse Photo Editor and Director of Pet Projects, Sam Phillips. "Looking through all her photo sets and trying to narrow it down to the best from the rest was super hard. Because, to be frank, all of her photos were beautiful and unique in their own way. Nicolle has a great face. Each angle is different and showcases her versatility as a model. Not to mention she's got a knock-out body, and a killer personality to match."
A gymnast and competitive swimmer in her youth, Snow stands a petite 5'3" and describes herself as an "active child" who enjoyed many sports. "I liked to try a lot of different sports!" she exclaimed. "I also did soccer and cheerleading for a bit as well."
Now a full-time content creator and model, Snow describes her Penthouse pictorial photo shoot as "one of the most incredible experiences" she has had. "Since the start, Penthouse has captured and showcased the female body so beautifully. I believe our bodies are a form of art, and I wanted to have the honor of joining the Penthouse family and creating art with them!"
Prior to beginning a career in modeling, Nicolle Snow tried her hand in the food and beverage industry, also working as a summer lifeguard and a nanny. "We all come from different backgrounds and walks of life," she explains. "For me personally, doing content creation and modeling has made me value myself more and be more confident."
"Nicolle is incredibly artistic and creative, and views her content creation as art," noted Phillips. "She's driven and adventurous and I'm in awe of her energy and overall attitude of gratitude. I love her confidence, her open-mindedness, and her ability to laugh at life. I'm so excited to welcome Nicolle to our Penthouse family and to introduce her gifts to the world!"
"We are thrilled to announce our newest Pet of the Month, Nicolle Snow," said Penthouse CEO Moose. "A true embodiment of what it means to be a Penthouse Pet, her style, drive and ambition earned Nicolle a well-deserved cover of our 'Movers and Shakers' Issue. With so many remarkable achievements and influence this early on in her career, she will undoubtedly be an inspiration to fans worldwide. We proudly welcome Nicolle Snow to Penthouse!"
Learn more about the August 2023 Penthouse Pet of the Month, Nicolle Snow, and see her pictorial and centerfold in the July/August issue of Penthouse Magazineentitled "The Movers and Shakers Issue" now available at newsstands and bookstores worldwide. For more exclusive access please visit PenthouseGold.com.
For more information, please visit penthousemagazine.com
Nicolle Snow
Twitter: https://twitter.com/nicolle_snow_of
Instagram: https://www.instagram.com/Nicolle.Snow/
Website Links: https://linktr.ee/nicolle.snow
Penthouse
Twitter: https://twitter.com/Penthouse
Instagram: https://www.instagram.com/penthouse/
Facebook: https://www.facebook.com/penthouse/

Indie Adult Cinema by Porn Filmmakers with Feminist, Queer, and Ethical Perspectives